The NBA world was set on fire over the news of Kevin Durant going to the Celtics.
ESPN Sources: As Brooklyn Nets star Kevin Durant's trade request approaches its fourth week, the Boston Celtics have emerged among teams engaged in talks on a possible deal. Story: https://t.co/eXpn6fRoYl

— Adrian Wojnarowski (@wojespn) July 25, 2022
Here is the trade offer that was turned down: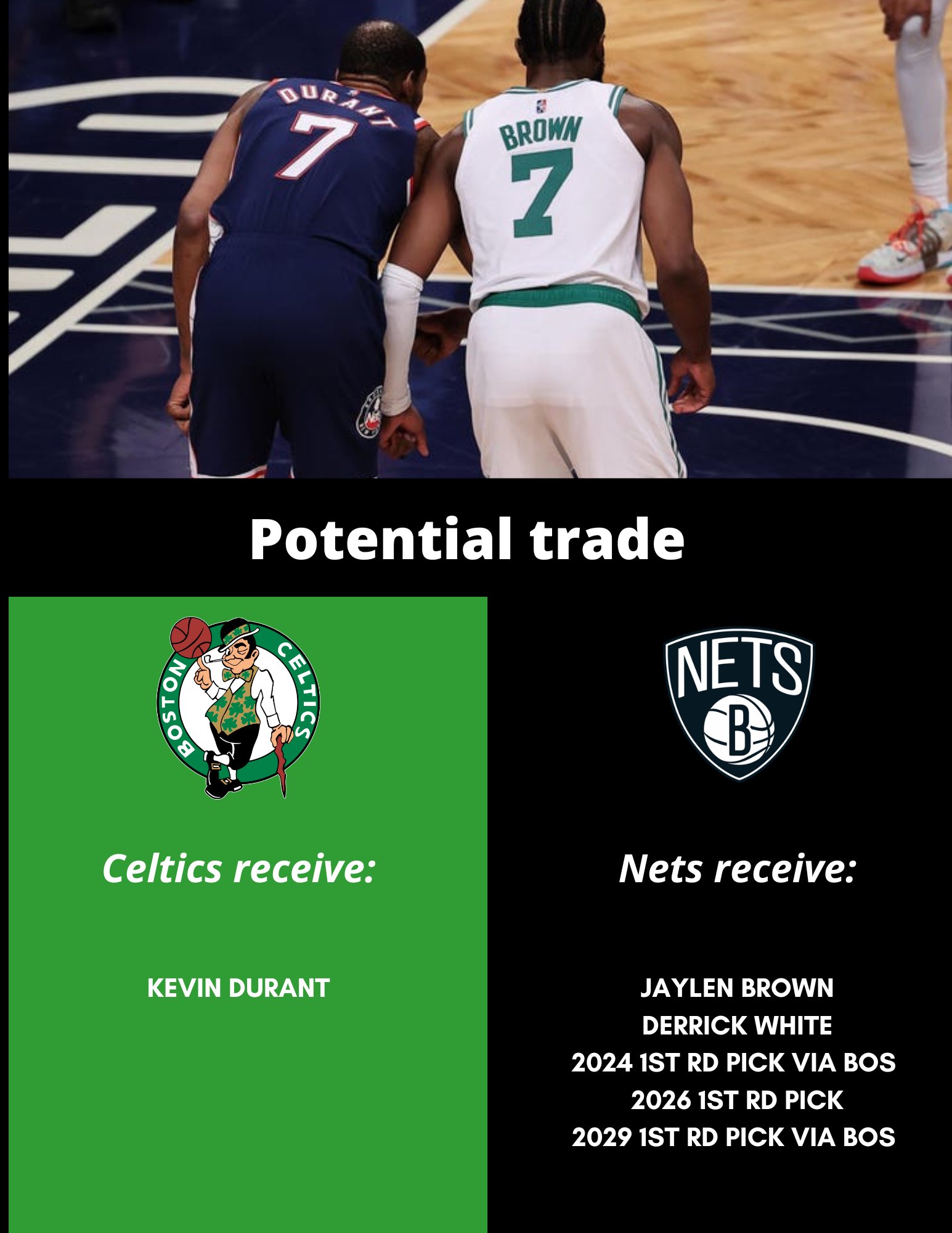 It is hard to say that the Celtics shouldn't have considered a deal for Kevin Durant. When Durant is on the trade market you have to consider him.
Let's take a look at the Pros and Cons of the deal.
Pros:
Kevin Durant is better than Jaylen Brown:
As much as I love Jaylen Brown he is not better than Kevin Durant at this point. Kevin Durant is a far better scorer and swapping the two would simply make the team better.
Kevin Durant is a closer:
One of the biggest weaknesses the Celtics had in the 2021-2022 season was their inability to close out games less. Durant would fix this. Durant has proven that late game he is one of the best. Not only will he help the Celtics in the short term but long term he will also help Tatum become a better closer.
Kevin Durant has a lot to prove:
Kevin Durant went from one of the most heavily praised athletes in the league to someone who is being attacked from all sides nearly all the time. No longer is Durant's name simply talked about regarding his skill. Anytime people talk about him other issues are also mentioned. Due to this, I do believe he would come to Boston and dominate.
Cons:
Celtics might be giving up to much:
Since the trade above was turned down by the Nets the Celtics are going to have to increase what they are giving up if they want Durant. What has been rumored is Marcus Smart and even one other piece on top of it. This seems to be too much for me. If the Celtics are trading away multiple parts of their core to get Durant they should not do the deal. Robert Williams should not be anywhere near this deal. Adding Durant but losing the team is a terrible idea.
The team chemistry could be destroyed:
Jaylen Brown is a key part of this team and has been since the beginning. The players in the locker room love him and seeing him traded could destroy the chemistry that has been built.
Can't trust Durant:
Durant has shown he has no issue demanding a trade and wanting out. If the Celtics make this deal and it doesn't pan out they could end up in the same situation the Nets are in right now – needing to trade Durant.
Loyalty factor:
Being loyal is one of the most underrated things in sports today. There is something special about building a team around your own drafted players.
Should they do the deal?
I don't believe they should do the deal. As good as a player as Durant is there is simply no certainty that he will be able to come in and deliver the Celtics a ring. The Celtics made the finals last year and I believe should have won. They have already improved the team with the additions of Danilo Gallinari and Malcolm Brogdon. They should be one of the favorites to win the NBA Finals without the Durant deal – no need to mess that up.
I want to add one asterisk to this post. Although I like Brown swapping him for Durant and picks seem like a good deal for the Celtics.